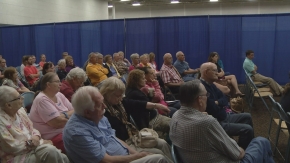 FARGO (KFGO-AM) -- People living in a Fargo apartment complex that's set to be sold and torn down as part of a flood protection project got an update on the plans Thursday night.
About 180 people live in the Park East Apartments. They'll have until next spring to find a new place to live. Once the city buys that property, people living there will have at least 90 days notice before they'll be forced out.
The city is tearing down the complex as part of plans to improve downtown flood protection.