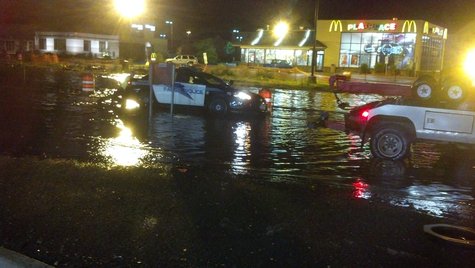 VALLEY CITY, N.D. (AP) -- Heavy rain flooded streets in Fargo, Moorhead, West Fargo, Jamestown, Valley City, Lisbon and other communities early Thursday morning as strong thunderstorms rolled through.
Police and EVAC blocked streets in Fargo to keep traffic out. Several vehicles did stall out in the water that was bumper deep in spots.
A flash flood warning has been issued for southern Barnes, northern Ransom and portions of Cass Counties until noon Thursday.
Severe thunderstorms struck the region early Thursday morning and a tornado warning was issued for Barnes County.
Carrington reported hail and wind gust of 65 mph.
In Valley City, officials blocked two roads due to street flooding.