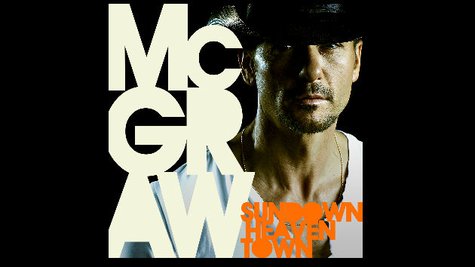 Tim McGraw revealed the album cover and track listing for his new project, Sundown Heaven Town. via social media Monday morning. The a album features his latest hit, "Meanwhile Back at Mama's" with wife Faith Hill , as well as a collaboration with Kid Rock on the song "Lincoln Continentals and Cadillacs." The deluxe edition of Sundown Heaven Town will feature a total of 18 tracks, which is an indication of just how excited Tim is about the new music.
He says, " I feel like I've got a lot of music in me and that's part of the reason why this album is so soon after the last one and why I wanted to start sharing it with everyone as soon as I could. I'm excited about where music is gonna take me and where I'm gonna take my music."
Tim has been out on his Sundown Heaven Town tour all summer long. The new album is due out September 16.
Here's the Sundown Heaven Town track listing:
"Overrated"
"City Lights"
"Shotgun Rider"
"Dust"
"Diamond Rings and Old Barstools" (with Catherine Dunn)
"Words Are Medicine"
"Sick of Me"
"Meanwhile Back at Mama's" (featuring Faith Hill)
"Keep on Truckin'"
"Last Turn Home"
"Portland, Maine"
"Lookin' for That Girl"
"Still on the Line"
Bonus Tracks:
"Kids Today"
"Lincoln Continentals and Cadillacs" (duet with Kid Rock)
"The View"
"I'm Feelin' You"
"Black Jacket"
Follow @ABCNewsRadio Copyright 2014 ABC News Radio