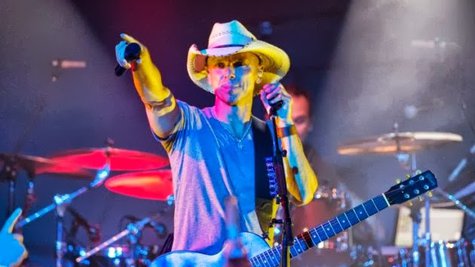 Kenny Chesney will most likely return to the concert trail in a big way next year, and his latest hit, "American Kids," will be a centerpiece of his new live show. The song excites Kenny because it sounds unlike anything he's put out in the past.
"It's fun to have a melody that you may not have had before," Kenny says. "It was kind of the same way I felt about 'Somewhere with You' when that first came out. I knew exactly where I was gonna put that song in the show, and how it was gonna make our show a little bit different with a few more twists and turns. And I feel that way about 'American Kids.'"
Kenny can't tell you exactly where the new single will fall in his 2015 set list, but he can't wait to see his fans have a good time singing along with it.
Says Kenny, "It's such a fun, summer song. It's going to be a song that I feel like that is gonna be a part of our life for a long time. I can't wait to see how it comes across."
Kenny will be performing "American Kids" at his one-off show August 16 at the Florida-Alabama line on Perdido Key. His new album, The Big Revival , comes out September 23.
Follow @ABCNewsRadio
Copyright 2014 ABC News Radio