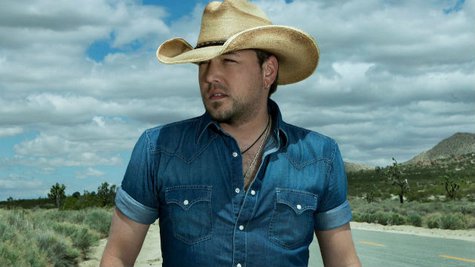 Florida Georgia Line 's Tyler Hubbard and Brian Kelley are co-writers on Jason Aldean 's brand-new, sexy single, "Burnin' It Down," and Jason was looking to include a vocal collaboration with FGL on his upcoming studio album. So, why didn't they just trade vocals on "Burnin' It Down?"
"I don't know if this particular song really would be the song that fits them," Jason says with a grin. "You know, three guys singing a song about burning it down with each other? I'm not sure that's a message we all want to send."
Speaking of the song's racy lyrics, Jason adds with a laugh, "Laying naked in the bed with Tyler and BK? I'm out. I mean, I like those guys, but not like that."
In all seriousness, Jason is a big fan of Florida Georgia Line, and they're touring together on Jason's Burn It Down tour all year long. Says Jason, "I love what they've brought to the table over the last couple years. I think it's been a shot in the arm for country music, for sure."
As for what fans can expect on his upcoming album beyond "Burnin' It Down," Jason says, "There are some different things on this new album, and I hope this sets a good tone for what's to come."
"Burnin' It Down" was released to radio and all digital outlets Tuesday.
Follow @ABCNewsRadio
Copyright 2014 ABC News Radio