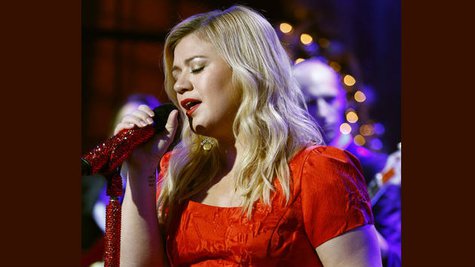 Kelly Clarkson is going to have a baby in less than six months, and she was really looking forward to the end of her first trimester, because she was hoping her horrible morning sickness would pass. Well, she's already into her second trimester, and unfortunately, that hasn't happened yet.
Kelly recently returned to Twitter after being away for a while, and she told her fans, "I have been and still am pretty ill from pregnancy so haven't felt like doing much of anything." She added, "Our baby is healthy but sadly I'm still tossing cookies everyday BUT I'd rather be sick than the baby so it's all good."
Kelly's sickness is so bad that she proudly stated in a Twitter posting , "Didn't throw up once from pregnancy while walking my dogs," and added the hashtag, " #smallvictory." She explained, "I usually puke all day long so you can see how this is a big moment for me haha."
But Kelly's trying to keep a positive attitude: she writes that she'll find out the baby's gender soon, and adds, "Gonna be the coolest kid ever." Best of all, the singer has even discovered something that seems to ease her non-stop vomiting.
"Ladies if you r pregnant & sick as a dog trust me when I say the one thing u will keep down might just be baked potatoes," she wrote , and added the hashtag, " #godblesspotatoes."
Copyright 2014 ABC News Radio