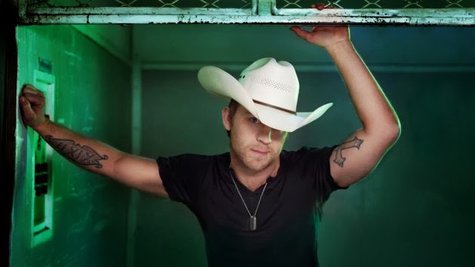 Even though Justin Moore denies being a germaphobe, you get the impression that in fact it may be the case that he is. For example, when he goes to Vegas to compete for ACM New Artist of the Year in April, he says he won't be wading into the public pool.
"My wife is excited about pool time. I'm not," he confides. "I don't do public pools. I'm not really a germaphobe, but public pools to me are disgusting. I mean, you're talking about urine that ain't yours, you're talking about every germ imaginable. It's just gross to me. My wife can do it. It creeps me out."
Justin is also bothered by what other people may have left behind in the water, and he's pretty graphic making his point.
"Band-Aids. You know, you're swimming around, there's somebody's Band-Aid that fell off. I mean, they had it maybe around their ingrown toenail or something," he says. "I can't do it. I won't drink out of water fountains either. I can't do it."
He confesses to going to great lengths not to touch anything in the bathroom, too, which can be a challenge, given his stature.
"In the bathroom, like the urinal, I kick the flusher, the handle. I don't touch it with my hands, yeah, unless it's real tall and then obviously I can't reach it. My legs are not the longest in the world, but [I] do the elbow thing, yeah."
You can cast your vote for Justin as ACM New Artist of the Year starting March 24 at ACMVote.com . The Academy of Country Music Awards air April 6 on CBS.
Copyright 2014 ABC News Radio