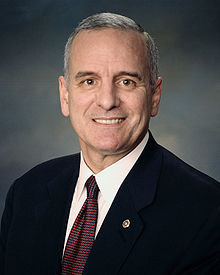 ROCHESTER, Minn. (KFGO AM) -- Governor Dayton is at Mayo Clinic for hip surgery.
The governor injured his hip last summer running down the stairs at the official residence.
Mayo doctors repaired a muscle shortly after, but Dayton reported continued instability in the joint.
Doctors found in mid-January that major tendons had come off the bone and they're reattaching them during today's surgery.
Dayton will have to wear a protective brace for up to three months but says it won't affect his official duties.