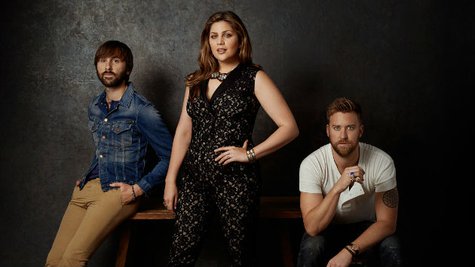 Lady Antebellum is very happy with the success of their latest hit, "Bartender," but they were a little uneasy about putting it out as the first single from their upcoming album, 747 . While they had a few other songs that might have led off the album, everyone they played their new music for started raving about "Bartender."
Lady A's Dave Haywood tells ABC News Radio, "You start to show the record to people. These early stages of finishing songs and sharing them with your team and label and friends and family and you start to kinda hear people talk about it. The label was like, 'I'm telling you, this "Bartender" song.'"
Now that "Bartender" is closing in on the #1 spot at country radio, Lady A has seen their concert crowds really latch on to the up-tempo song.
"We had a feeling fans that were gonna dig it, but we didn't know they were gonna dig it this much," says group member Charles Kelley . "This has probably been the fastest-rising single we've had in a long time -- probably since "Need You Now."
The lady in Lady Antebellum, Hillary Scott , sings lead on "Bartender," which tells the story of a woman going out on the town with her girlfriends to get over an ex. That storyline makes it interesting for Charles and Dave singing backup on the song every night.
Charles says with a laugh, "That's always my most, like, awkward line to have to sing harmony to -- 'Dancin' with my girls to the D.J.' It's like, 'Yeah, I'm dancing with my girls!'"
Look for Lady Antebellum's new album, 747 , to land in stores and online September 30.
In other Lady A news, Hillary and her husband, Chris , celebrated a big milestone with their baby, Eisele , on Wednesday. Hillary posted the news on Instagram , "Our 13-month-old daughter started walking on what we thought was gonna be just another Wednesday...we are 50% happy and proud, and 50% sad it's going so fast."
Hillary admits she cried a lot watching Eisele walk, and she calls the event "bittersweet."
Follow @ABCNewsRadio
Copyright 2014 ABC News Radio