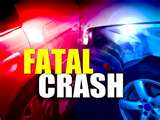 MITCHELL, S.D. (AP) -- The South Dakota Highway Patrol has identified two people killed in a fiery head-on collision on state Highway 37 near Mitchell.
The patrol says 82-year-old Donald Geidel, of Dimock, was driving a pickup truck, and 23-year-old Sara Claggett, of Tripp, was driving a van that drifted into Geidel's lane. Both drivers died. Claggett's 2-year-old daughter was hospitalized in Sioux Falls with life-threatening injuries.
Witnesses say a man who came upon the accident used a knife to cut a seat belt and remove the girl from the burning van.
The crash happened about 4 p.m. Wednesday. Smoke could be seen from several miles away.