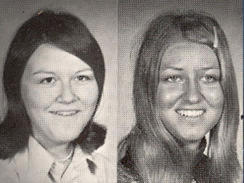 VERMILLION, S.D. (AP) - Classmates of two 17-year-old Vermillion High School students who disappeared in 1971 say they were traveling to an end-of-year gravel pit party in separate cars but the girls' Studebaker never arrived.
Mark Logterman says that he and two classmates were in the car in front of Cheryl Miller and Pamella Jackson, but the boys missed the turn and drove past the party.
State and local authorities this week pulled the rusted 1960 Studebaker Lark from an embankment in Brule Creek. Forensic experts are examining human remains found and processing other evidence from the site in hopes of finding some answers.
Union County Sheriff Limoges would not speculate on whether the disappearance now appears to be an accident or if foul play is still suspected.