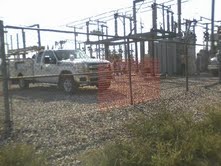 WAHPETON (KFGO-AM) -- An Otter Tail Power Company electrical substation in Wahpeton was damaged by someone trying to steal copper wire. Crews discovered the theft after responding to arcing wires.
Police Chief Scott Thorsteinson says someone cut a hole in the fence and then started snipping wires. The person who did it may have received a jolt after hitting a live wire, so it's possible that person suffered burns.
Otter Tail Power's Cris Oehler says the thief only got away with about twenty pounds of copper worth $50.00, but it's a federal crime because Homeland Security considers it an act of terrorism to interfere with the electrical grid. Anyone with information on the crime is asked to call Wahpeton Police.