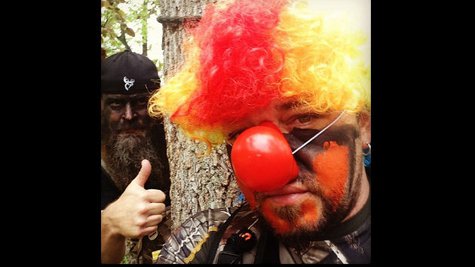 Still looking for something to wear out trick-or-treating? Maybe you can pick up some last-minute ideas from a few country stars. Here's a roundup of the memorable Halloween costumes they've worn since hitting adulthood:
-- Jason Aldean posted an Instagram photo of himself hunting in the woods Wednesday wearing a clown wig and big red nose along with his orange-and-black camouflage face paint. It turns out Jason let some of his Buck Commander hunting buddies pick out his costume for Halloween eve. The caption says, "#theclownisabouttolayitdown."
-- The members of Lady Antebellum say you can't go wrong dressing up like a celebrity making headlines right now.
The group's Dave Haywood tells ABC News Radio, "It's always fun to find something pop-culture related. Something Kardashian -related."
Lady A's Hillary Scott expects to see some foxes out trick-or-treating as a nod to that odd European import hit "The Fox (What Does the Fox Say?)." Of course, Hillary thinks lot of people will go as Miley Cyrus this year as well, but her band mate, Charles Kelley , is a little confused about how they'll pull that costume off.
Referring to Miley's skin-baring turns on the MTV Video Music Awards and in the "Wrecking Ball" video, Charles asks, "So, basically they would just run around butt naked?"
Hillary nods, adding that those girls would have to stick their tongue out throughout the night to complete the Miley look.
-- Tyler Farr dressed up as an ice cream cone back in college, and his pals still have the photos to prove it. Tyler tells ABC News Radio, "I literally, my head was where the ice cream was. I had, like, sprinkles on top."
Since it was college, Tyler and his friends partied hard that Halloween.
"I think I passed out out on the front porch or something, in this front porch swing in the ice cream cone costume," Tyler recalls, "and my buddies came out and took pictures of me and stuff."
He adds, "I found one [of the photos] the other day, and I almost just lost it."
Tyler hopes his friends don't find their own pictures of him in the ice cream cone costume to post online now that he's scoring country hits.
-- Florida Georgia Line 's Brian Kelley had a most excellent Halloween a few years ago when he dressed up as Garth and his friend dressed up as Wayne from Wayne's World .
Brian says, "We went to a couple parties. I had drumsticks, and he had a guitar. It was actually pretty solid."
-- The Band Perry always celebrates Halloween in a big way even if they're playing a show. Last year, all three of the Perry siblings dressed in costumes for a concert with Reid Perry going as a sheriff and Kimberly Perry dressing up like Marie Antionette . As for Neil Perry 's costume, he recalls, "I was the Mad Hatter because he's kind of a hero of mine, really."
-- As many country fans are discovering thanks to his Twitter account, newcomer Brett Eldredge has a wacky sense of humor. So, it's no surprise he rounded up a bunch of his buddies to dress up as Teletubbies a few Halloweens ago.
"We went to a bar, and it was just a hit," Brett says. "It was so hot inside those suits. I was having a great time, and everybody just wanted to get pictures with us. So, Teletubbies definitely has to be one of the craziest things you can be for Halloween."
Copyright 2013 ABC News Radio