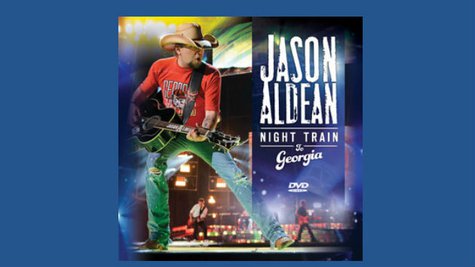 Jason Aldean grew up a diehard Georgia Bulldogs fan, so his sold-out concert at the University of Georgia's Sanford Stadium was a real dream come true. His fellow country superstar and Tennessee Volunteers fan, Kenny Chesney , played a similar show at the University of Tennessee's Neyland Stadium back in 2003. Before Jason played his Georgia show, he got a call from Kenny offering some advice on handling such a big concert.
Jason says, "He's like, 'Man, it's gonna be a lot of stuff going on. Lot of craziness. Media everything.' He's like, 'It's gonna be hard to enjoy it just because it's gonna be so crazy, but take it all in, because it's gonna be a once-in-a-lifetime thing.'"
Jason certainly took that advice to heart for the Georgia show. Fans who couldn't be there in person can see it all on Jason's new concert film, Night Train to Georgia , coming out on DVD next week. In addition to the full concert, the film includes footage of Jason preparing for the big show and giving his mom a full tour of Sanford Stadium. Luke Bryan , Ludacris and Kelly Clarkson also make special appearances singing with Jason during the show.
Jason invited a few guests to watch Night Train to Georgia at a movie theater in Nashville Tuesday afternoon. A lot of planning and work went into making this concert film, and Jason can't wait to share it with his fans.
"I think it's really well done, which is good," Jason says. "I mean, you hate to put this much time and effort into something and it turn out you be unhappy with it. So, I'm extremely happy with the way it turned out."
Highlights from Night Train to Georgia will be featured in a new 30-minute special airing Saturday, October 19 on CMT. That special will also air on Palladia on Sunday, October 20 at 9 p.m. ET.
Look for Jason to host a live chat and stream of the concert on his Facebook page Monday, at 9 p.m. ET, too.
Copyright 2013 ABC News Radio