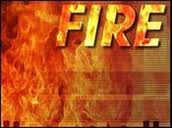 STEELE, ND (AP) -- Hotel owners in Steele, North Dakota are suing a convicted arsonist for setting their business on fire.
The owners of the former Lone Steer Hotel want a half-million dollars from Allen Thomas.
Thomas was convicted in August of setting the hotel on fire.
The fire caused several people to jump from 2nd story windows of the hotel to escape the burning building.
Thomas could face up to 10 years in prison on each one of the 19 felony charges he has been convicted of.
Sentencing for those charges will be November 7th.