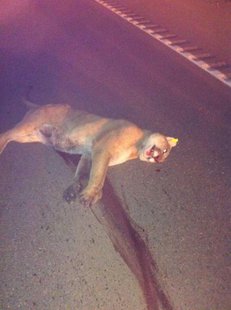 Grassy Butte, ND (KFGO AM) Busy highways in North Dakota's oil patch have been racking up a lot of crashes and the heavy traffic is also taking a toll on wildlife.
State Game & Fish Wildlife Division chief Randy Kreil says an adult male mountain lion with a radio collar was struck and killed Wednesday on Highway 85 just south of the north unit of Theodore Roosevelt National Park. He says a few lions have been hit before but this is the first one in years.
Kreil says radio tracking information indicated the lion had been criss-crossing the busy highway before it was hit. He says future upgrades of the highway could include some type of wildlife crossing to avoid road kill. Last winter, Game & Fish used helicopters to move an entire herd of bighorn sheep out of the same area after multiple sheep were killed by truck traffic.