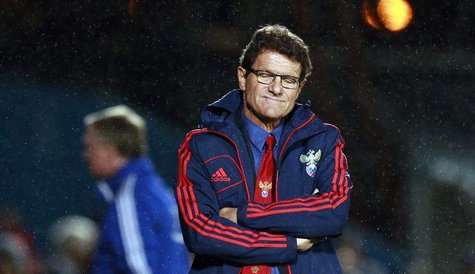 (Reuters) - Russia coach Fabio Capello has dismissed reports midfielder Igor Denisov was left out of the squad for friendlies against Serbia and South Korea due to financial demands, saying he wants the chance to watch Dmitry Tarasov.
"When I hear things like this (that Denisov was not included in the squad because he demanded extra bonuses), I just want to laugh," Capello told a news conference on Thursday on the eve of the match against Serbia in Dubai.
"The only reason for Denisov not being part of the team is Dmitry Tarasov's call-up," Capello said. "He is also a holding midfielder and you see we don't have a lot of players in this role.
"We used Denis Glushakov in this position in the friendly match against Brazil (in March) and now we'll try Tarasov, who plays well in the Russian championship."
Dynamo Moscow's Denisov, 29, has been capped 40 times since making his debut in 2008.
Russia, who will appear at next year's World Cup finals in Brazil after topping their qualifying group, will also play South Korea in Dubai on Tuesday.
"We'll play four friendlies before the finals in Brazil - two games now and we'll play another two next year," said Capello.
"So, I would like to try more players because one good match for the club is not enough. I need to see them in action at international level."
Capello also urged the Russian soccer authorities to step up their efforts to curb racism in the sport.
"There are stupid people in any country and they often come to stadiums," the Italian said. "They should try to isolate them from football."
"Unfortunately, the situation with fans is the same in many European countries and around the world. These people are a minority and they are trying to express themselves in different ways."
Last month, a section of CSKA Moscow fans racially abused Manchester City's Ivory Coast midfielder Yaya Toure with audible monkey chants, earning a fine and a partial closure of their stadium from UEFA for their next Champions League home match.
(Writing by Angel Krasimirov; Editing by Alison Wildey)