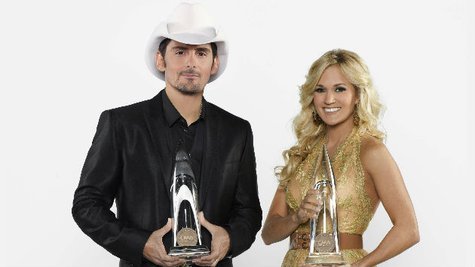 Controversy among country artists is always good for Brad Paisley and Carrie Underwood 's CMA Awards monologue, so they've got to be pretty happy about the recent flare-up among a few top stars over the current state of country music. Of course, we're referring to Zac Brown telling a Canadian radio station Luke Bryan 's song, "That's My Kind of Night" was the worst song he's ever heard, and Jason Aldean coming to Luke's defense via social media with some harsh words for Zac. That's just the type of situation that puts a devilish grin on Brad's face.
"If it's something unfortunate, like an artist does something really dumb. You're thinking, 'Bad for them, good for us' in some way," Brad says with a laugh. "So, it's a really different mindset honestly. It's kind of strange to be this sort of sadistic person rooting for people to make little mistakes that you can talk about 'em."
While Brad admits most country stars tend to root for each other at the CMA Awards, this year could be a little different with Jason, Zac and Luke all slated to perform on the show. In fact, Luke is opening the show with a mashup of "That's My Kind of Night" with Florida Georgia Line 's hit, "Cruise."
He says, "Everybody gets along for the most part, other than this year, which is actually it's own sort of topic of discussion, in some ways, isn't it -- the whole feuding that's going on in music in general."
As for Carrie, she's very excited to see Zac Brown Band team up with rocker Dave Grohl of the Foo Fighters on this year's show.
Carrie says of Dave, "I've gotten to talk to him a little bit. He's just funny and awesome. I think it'll be cool for him to be with Zac Brown and just the unique moments that you really won't see anywhere else."
On a personal note, Carrie may not be able to contain herself when Alan Jackson and George Strait take the stage to pay tribute to the late George Jones Wednesday night.
"Alan was my first concert," Carrie explains. "So, for me to get to 'fangirl' and get to see the two of them together is going to be pretty spectacular."
In addition to hosting the show, Carrie and Brad also have performance slots. He's set to sing "The Mona Lisa" from his album Wheelhouse , and she's doing a medley of #1 hits from her latest release, Blown Away .
A few artists are debuting brand-new songs on the CMA Awards, including Eric Church with "The Outsiders," Kacey Musgraves with "Follow Your Arrow" and Lady Antebellum with "Compass." Luke is set to sing his new single, "Drink a Beer," as a tribute to his late brother, and Hunter Hayes welcomes pop star Jason Mraz for a collaboration on "Everybody's Got Somebody but Me." Miranda Lambert and Keith Urban will sing their hit duet, "We Were Us," on the show, too.
Six-time nominee Taylor Swift teams up with Alison Krauss and Vince Gill for an acoustic version of her hit, "Red" while Tim McGraw delivers his latest #1 hit, "Southern Girl." Jennifer Nettles , Rascal Flatts and Darius Rucker are set to pay tribute to this year's Willie Nelson Lifetime Achievement Award winner Kenny Rogers .
Reigning CMA Entertainer of the Year Blake Shelton , Little Big Town and The Band Perry round out this year's performers lineup. The 47th Annual CMA Awards broadcast live from Nashville Wednesday night at 8 ET on ABC.
Copyright 2013 ABC News Radio