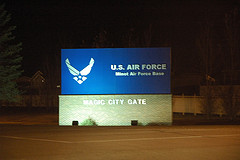 MINOT AIR FORCE BASE, N.D. (AP) -- The Defense Department awarded a $32 million contract for runway repairs and improvements at Minot Air Force Base.
Sundt Construction Inc., of Tempe, Ariz., should finish the work by October.
Republican Sen. John Hoeven says one end of the runway was done earlier and another section was finished this past year.
While crews work on the middle section of the runway, some of the B-52s will likely go on temporary duty in Guam while others will be relocated to Barksdale Air Force Base, La.