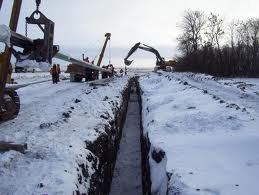 BISMARCK, N.D. (AP) -- A company that operated a natural gas pipeline for more than two years without a permit will not be fined by the state Public Service Commission.
The pipeline by Hiland Operating LLC of Enid, Okla., was completed in 2010.
The company told the commission in May 2012 that it did not have a permit. A company can be fined up to $10,000 per day for ``willfully building an energy conversion facility or transmission line without a permit,'' with the total fine not to exceed $200,000. Commissioners say they don't think the violation was intentional and fining Hiland might deter other companies from considering investment in North Dakota.