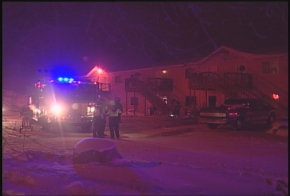 MOORHEAD, Minn. (KFGO AM) -- Moorhead police responding to a disturbance at an apartment at 1305 34th Street Circle South last night about 6:00 discovered the unit engulfed in flames.
Firefighters had the fire knocked down quickly before it could spread to other units.
Police tell KFGO News a man found outside the apartment fought with officers and had to be pepper sprayed and then tazed before he was arrested.
One officer received minor injuries in the fight.
The cause of the fire has not yet been determined.