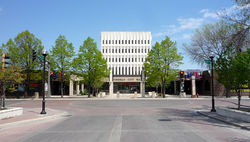 MOORHEAD, Minn. (KFGO AM) -- The Moorhead City Council approved its 2014 city budget last night but it took three hours and some heated debate to do it.
The city's budget in 2014 will be nearly $68 million, a $2.5 million dollar increase over last year.
The plan will raises property taxes about 8% .
For the owner of a $140,000 home, that should result to an annual increase of about $26 more in property taxes.
The budget passed by a 7-1 vote, with only Councilman Luther Steuland voting against.