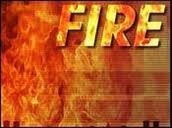 WEST FARGO (KFGO-AM) The Red Cross is assisting several people temporarily displaced by a fire Saturday morning in West Fargo.
Assistant Fire Chief Dell Sprecher tells KFGO News the fire was in an older r-v in the Doris Day trailer court.
The fire appears to have started in the battery compartment of the r-v. Fire damage was minor but several windows were broken as a neighbor attempted to get the people out, making the trailer uninhabitable until repairs can be made.