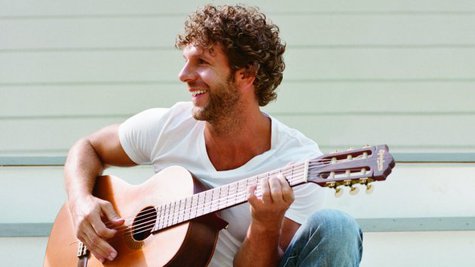 Billy Currington brought his 83-year-old grandmother, Evelyn , up to Nashville this week to see the Christmas lights at the Gaylord Opryland Resort. Once she got to town, Billy surprised his grandmother with the news she was attending a party honoring his latest #1 hit, "Hey Girl," too.
Billy says, "I think she had other plans, but we said, 'Wouldn't you rather go see the Opryland Christmas lights?' So, that's really all she thought she was coming to do."
On their way to the party, Billy drove Evelyn around Music Row, where she reminisced about some of her favorite classic country stars, including Roy Acuff .
"[She] saw something about Roy Acuff, and [said], 'Oh, I just wish I could hear Roy Acuff play just one more time,'" Billy explains. "She's rooted deep in the history of country music. She knows a lot."
Evelyn still has her massive record collection back home in south Georgia, but Billy hasn't gone through them in decades.
He says, "I look forward to going through 'em one day. Lot of beautiful music. Never had a scratch on any of 'em. She kept 'em so protected, so it'll be interesting to see what she has."
We're certain Evelyn has all of her grandson's albums in her music collection. Billy's latest project, We Are Tonight , is now in stores.
Copyright 2013 ABC News Radio