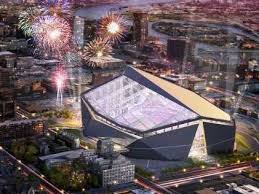 MINNEAPOLIS, Minn. (KFGO AM) -- Several groups are doing a "taxpayer reality check" at the Minnesota state capitol this morning, just before officials break ground for a new Vikings stadium in Minneapolis.
Taxpayers League President Ted Lillie says because electronic pulltabs didn't generate expected revenue, the state is now taxing smokers and small business people to pay for a billionaire's stadium.
The groups are calling on Governor Dayton to not commit any additional tax money to the stadium, and to oppose any additional tax increases to pay for stadium shortfalls or cost overruns.