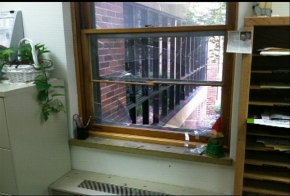 MOORHEAD, Minn, (KFGO AM) -- A confused deer caused quite a chaotic scene at a south Moorhead church late yesterday morning.
The young buck went through the daycare playground at Trinity Lutheran Church and jumped into the building, breaking two windows, damaging property, and creating a mess inside.
The deer was eventually tranquilized by authorities and had to be put down because of injuries.
There were children at the daycare when the incident happened, and the church was also taking directory photos at the time, but no-one was hurt.