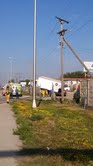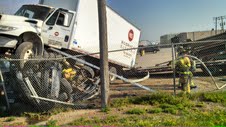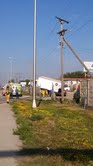 FARGO (KFGO-AM) -- An employee of a Fargo business who was sitting in his car taking a work break is one lucky man. A utility truck that careened out of control, took out a fence and power pole and wound up on top of the car he was sitting in at Fargo Tank and Steel in the 4400 block of Main Ave. Two other vehicles that were not occupied were also crushed.
Sgt. Mark Lykken says the worker on break and the driver of the Moorhead Electric truck that lost control were both taken to the hospital. Their injuries are not believed to be life-threatening.
It's not known what caused the driver to lose control.
The crash slowed westbound traffic for a couple of hours.