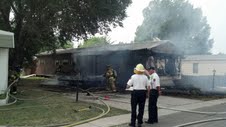 FARGO (KFGO-AM) -- Fire has gutted a mobile home in Fargo.
The fire may have started in the entryway of the home in the Buena Vista Mobile Home Park south of Main Ave. and west of 42nd St. The fire was spotted by a neighbor.
A teenage girl and some pets got out safely.
The home is total loss. The fire broke out shortly after 2pm Friday.