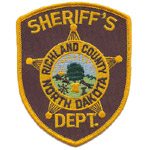 WAHPETON, ND (KFGO-AM) -- The Richland County Sheriff's Office is looking for information on a man and a vehicle after he cut through a screen and entered a farm house west of Christine, North Dakota Wed. afternoon.
He left when he realized someone was home. Two 12 year-old girls had locked themselves in a bathroom.
The man was white, about 5-foot-9 with a thin build and short blonde hair.
He was wearing a baseball cap, red shirt and blue jeans. The man was driving a black SUV, possibly a Tahoe.
Anyone with who may have seen the man or s-u-v is asked to call the sheriff's department in Wahpeton at 701-642-7711.