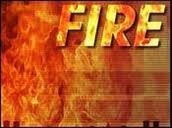 WEST FARGO, ND (KFGO AM) -- It was luck a passing driver spotted a deck fire and quick action by two West Fargo police officers that kept it from doing serious damage early this morning.
The fire was on a second floor deck of an apartment building at 3426 5th Street West.
Police were first on the scene and had to wake up the occupants to get in.
Officers used extinquishers to get the fire out.
Damage was limited to the deck and some melted vinyl siding.
The cause is under investigation.
Most deck fires are attributed to careless disposal of cigarettes.
In this case, the residents told authorities they don't smoke.