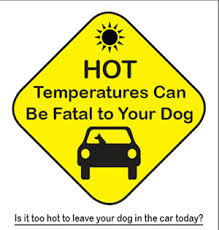 A Community Service Officer with the Fargo Police Department was called to the parking lot at West Acres today after a passerby reported a dog in "severe distress", locked in a car with the windows rolled up, suffering the effects of the hot weather.
Lt. Joel Vettel says the officer was ready to break out a car window to rescue the dog when the owner appeared.
He says this should serve as a warning not to leave pets in vehicles.
A report will be forwarded to the city attorney to determine if the owner will be charged with animal neglect.