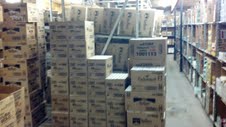 FARGO (KFGO-AM) - If you're a smoker living in Minnesota near the North Dakota border, you've undoubtedly discovered that you can save a lot by driving a little. Since Minnesota's cigarette tax jumped by around $1.50 a pack on July 1st, tobacco wholesalers have noticed a dramatic drop in sales.
Wholesalers like Henry Knoll have noticed a dramatic drop in sales. Knoll is president of Frank McKone Cigar Co. in Fargo. He distributes to retailers within about 200 miles of Fargo-Moorhead."Petro Serve USA" CEO Kent Satrang says the shift to North Dakota was almost immediate. Satrang says the convenience store industry lobbied the legislature for a smaller tax increase.
Some of the tobacco tax dollars could eventually be funneled to the Minnesota Vikings stadium if the main funding source, electronic pull tabs, don't bring in enough money.
Paul Jurgens