Eli Young Band

Sign up to win tickets to the Eli Young Band with Froggy 99.9!
It's another Fun Froggy Concert! Jade Presents the Eli Young Band for an ALL ages show at the Venue at the Hub at 7pm on Wednesday, Aug 13th! Get all the info here and even sign up to win a pair of tickets! For more information, check out www.eliyoungband.com.
About the Band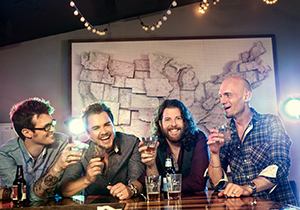 With three No. 1 hits under their belt as well as a Grammy nomination and an Academy of Country Music Award for Song of the Year for their hit "Crazy Girl," the Eli Young Band approached their second Republic Nashville album, 10,000 Towns, with a sense of confidence and purpose.
"We were genuinely excited about making this new record," says bassist Jon Jones. "People talk about the sophomore record being really tough to make and in a lot of ways this felt like our sophomore record even though it's technically our fifth record as a band."
"We learned over the progression of those records our strong points in the studio, and we were confident," adds drummer Chris Thompson, "We knew what we wanted and how to get what we wanted."
It's been a long, steady rise for Jones, Thompson, lead vocalist Mike Eli and guitarist James Young, but the same four musicians have been together from the start and are now reaping the rewards. They began performing together in 2000 while attending North Texas State University, and honed their skills on the Lone Star state's competitive music circuit by building a rabid fan base who appreciated their potent live shows and the edgy, passionate indie albums that preceded their major label ascension.
Tickets are available at JadePresents.com, at the Tickets300 box office (300 Broadway, Fargo; open Monday-Friday, 11 a.m. to 6 p.m.), or by calling (866) 300-8300.